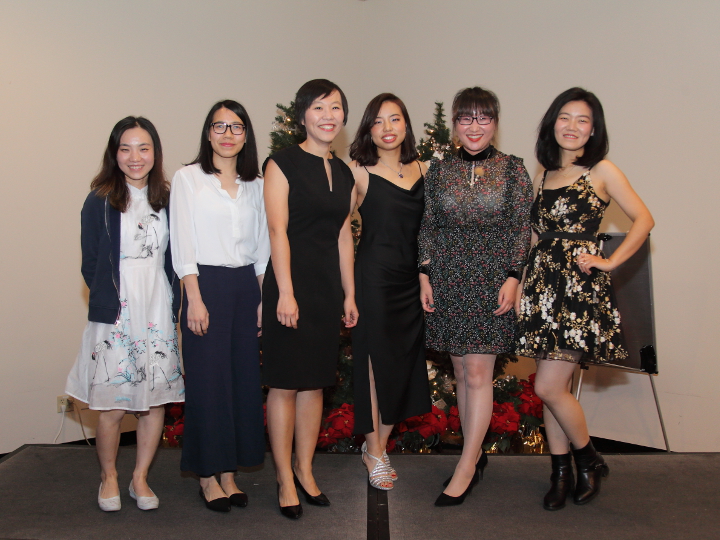 Fan Wang (third from right) gets in the holiday spirit at the annual Equity Methods party.
Fan Wang
University of Arizona
MS Finance
Zhongnan University of Economics and Law
BS Finance
Fan played the piano as a girl. But her real affinity was for team sports—she's a soccer fan to this day. In 2012, she packed her bags and left China to attend graduate school in Tucson.
If someone visited your hometown, where would you take them?
From my home in Wuhan, I'd take them to the Yangtze River. We could ride the ferry and see local life there in China.
What was the biggest culture shock of moving to the United States?
Talking to strangers. Everyone's so friendly here. In China, it's totally different. People don't say hi to total strangers, much less smile at them. I learned that in the US, "How are you?" is just a courtesy—a way to say hello. If you asked someone in China that question, they might just give you a rundown of how they're feeling that day!
How did you come to work at Equity Methods?
When I was a student in the University of Arizona's math program, I got a recommendation from a professor who knew a couple of people from Equity Methods. I interviewed with the firm after I graduated. I talked to a lot of young, smart people and thought I'd like it here.
The funny thing is, I interviewed in May. Then I moved to Houston because I thought I might like to work there. While there, I accepted an internship with an asset management firm on the east coast, so I moved to Boston. In Boston, I got the offer from Equity Methods and immediately accepted.
I moved so many times in the few months after graduation! So now, even though I've been here a while, whenever I think about buying something new I ask myself: How much do I want this? Enough to move it?
What's the most interesting client project you've had so far?
One of my early engagements involved a very complex award. We had a tight timeline plus a good deal of back-and-forth with the client to confirm everything. It was the first time I'd had to deal with such a large project. I gained a lot of technical knowledge from participating in this project, which of course I expected. What I didn't anticipate was the level of soft skills involved. My senior on the project helped me understand how to communicate effectively with all the different constituents. That, as much as anything else, developed me into the professional I am today.
Do any stories from your time at Equity Methods stick out?
Earlier this year, the firm arranged for onsite massages. Our office manager made an appointment for me. At the same time, the firm also bought a massage chair. I'd just come back from a trip. On the appointed day, I came in to the office, saw the new chair and thought, This is so cool! Here's my massage. I'd been sitting in the massage chair for 30 minutes when Kathleen came by and said, What are you doing? You're supposed to go to the other room. The masseur's there waiting for you. I had no idea a person would be giving the massages! It was pretty funny.
How would you describe your Equity Methods colleagues?
Very smart and responsible. Whenever I have questions or problems I can't solve, I can easily find someone to help me.
What advice would you give someone who just joined Equity Methods?
Enjoy the new challenges and ask the right questions.
Why do you think Equity Methods is a top firm to work for?
The great environment here. Also, the work itself is very interesting. Tasks are very challenging. Every day, there's something new to do.
What do you like to do when away from work?
I like to work out, travel, and cook Chinese food. I don't care for the Chinese food available in restaurants here. It's forced me to cook on my own. I'm not the world's greatest chef, but I like doing it. And I like it spicy! One time, I invited a group of friends to dinner. I applied the same spicy sauce to everything, and my friends complained that all the dishes tasted the same. I like road trips, too. Two years ago, I flew to Florida with some friends. We visited Orlando, Miami, Key West, and Jacksonville. At one point we stopped at a small town to go deep sea fishing. That was really fun. But the weather was so hot, we barely saw any alligators. We saw one small one, at the edge of the Everglades. That was it.
What did you do during your last vacation?
I just came back from two weeks in China. I spent a week in Beijing with some of my old high school classmates and friends. I hadn't seen them in eight or ten years. Then I stayed in my hometown for another week. I had a great time with my parents.
Who was your biggest influence while you were growing up?
Probably my father. He's a landscape architect who runs a small business in my hometown. From the time I was small, he taught me a lot, about both plants and business. I gradually developed my interest in finance because of my dad. He's a hardworking and very strong man. His personality really left an impression on me.
Which living person do you admire most?
Again, my dad. He was born in a village and came to the city when he was 16. He tried many different jobs. Finally, he found real interest in gardening and landscaping. Now he's a successful entrepreneur. He has a great humor and personality. He easily chats with different kinds of people. He's very sociable. Even when his business is not in good times, he's optimistic and never gives up.
What's your idea of perfect happiness?
Being with people that I love…and having a job I really love.