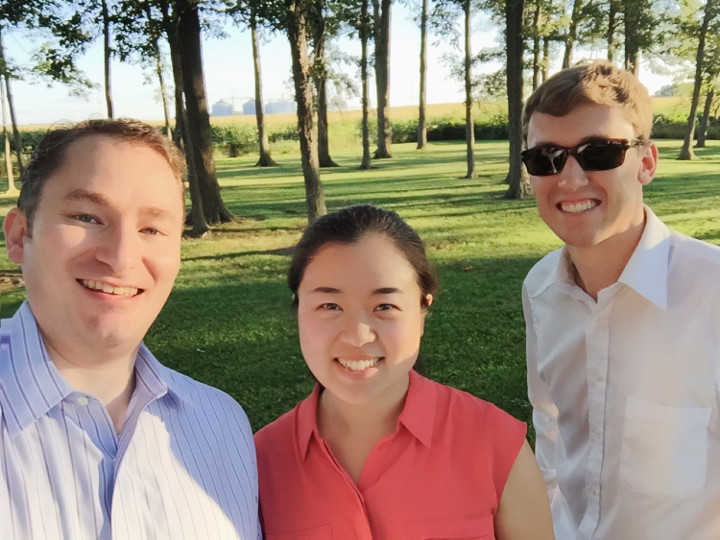 Fori Wang (center) enjoying the weather with Equity Methods colleagues.
Fori Wang
Arizona State University, WP Carey School of Business
MA Accounting & Information Systems
Nanjing Audit University
BA Accounting
Shih Hsin University
BA Economics and Finance
Storytelling is in Fori's DNA. She worked as a freelance journalist and photographer throughout her undergraduate years. Later, while working as an auditor in Ernst & Young's Beijing office, Fori shot the documentary Miri Miri, Japan in Their Backpacks. Her next foray into filmmaking, Stalking 101, landed her among the finalists at Arizona State University's Campus MovieFest.
If someone visited your hometown, where would you take them?
Wudaoying Hutong, a very hip part of Beijing. You can find a mix of history and artistic creativity in this traditional Hutong neighborhood. The Great Wall and Forbidden City are both awesome, but Wudaoying Hutong is less touristy, with good galleries, cafes, and fun stuff to do.
What was the biggest culture shock of moving to the United States?
Ice water and the huge portions of food.
How did you come to work at Equity Methods?
Two of my professors mentioned Equity Methods in class. I was interested because I like to explore new areas, such as programming.
What do you think is unique about Equity Methods?
Everybody counts. The sky's the limit! We have the opportunity to work directly with senior colleagues and clients. Before, I worked for a Big Four accounting firm. It's a very different mindset. In a Big Four, there's plenty of travel—you're constantly on the road. But because turnover is so high, they train you only for what you need to do in the upcoming year. They'll hire 10 people and keep maybe a couple. It's understandable. But Equity Methods allows you to explore. People are there to help you. You can run as fast as you're able. There's no stop sign in your career.
How would you describe Equity Methods to someone who doesn't know us?
It's very different from a traditional CPA firm or even a consulting firm. It's not management consulting where you go inside, find what the problem is, then leave to the client to implement. Equity Methods is very thorough. We take data directly from an administrative system and then return an analysis to the client. We rely heavily on technology to achieve this outcome. We actually have to understand SAS, build processes from the coding perspective, and then run it. You need a lot of creativity and critical thinking to do this work. It attracts tech-savvy people as well as people who like challenges and puzzles. It's completely different from bookkeeping and public accounting.
Do any stories from your time at Equity Methods stick out?
Working at Equity Methods has been part of my American dream. The past three years have been eventful for me as a twentysomething. I came to a new country to live, graduated with a master's degree, and found a job. I lost the visa lottery—it is a lottery—then got it the next year. I passed the CPA exam, got engaged, bought my first home, and gained new skills. All of these stories stick out. It's been a very critical time for me.
What advice would you give someone who just joined Equity Methods?
Try to absorb as much as you can. Never stop learning, whether it's new code, a new writing style, or whatever.
Why do you think Equity Methods is a top firm to work for?
We embrace cultural diversity and focus on the personal and professional growth of our employees.
What do you like to do when away from work?
What did you do during your last vacation?
I spent some quality time with my family and friends in Beijing.
Have you ever jumped out of a plane?
No, but I had a travel experience that was almost as crazy. I waited alone for a connecting train at 3:00 am during a snowy night in the middle of Poland. For 10 minutes, I thought I was going to die! It was January, the temperature was zero degrees, and I was literally in the middle of nowhere. There was no indoor waiting area. I stood on the platform. I felt like I was going to pass out, so I started walking. I finally found shelter in the only place with a light on—the cargo office of some company with two guys working the night shift.
Which living person do you admire most?
My mom. She's a CPA and a senior partner at a public accounting firm. She raised me as a single mom. She's the kindest person in the world, always genuine, never angry, regardless of how many bad experiences she encounters in her life. Her clients respect her and like her. I didn't want to be an accountant when I grew up—my mom traveled too much and had very little time to spend with her family—but gradually I began to understand her. She taught CPA classes, becoming a lecturer in community college for management. She once had very limited accounting knowledge but taught herself and earned her certification. Whatever exam she took, she passed it.
What's your greatest extravagance?
I completely spoil my cat!