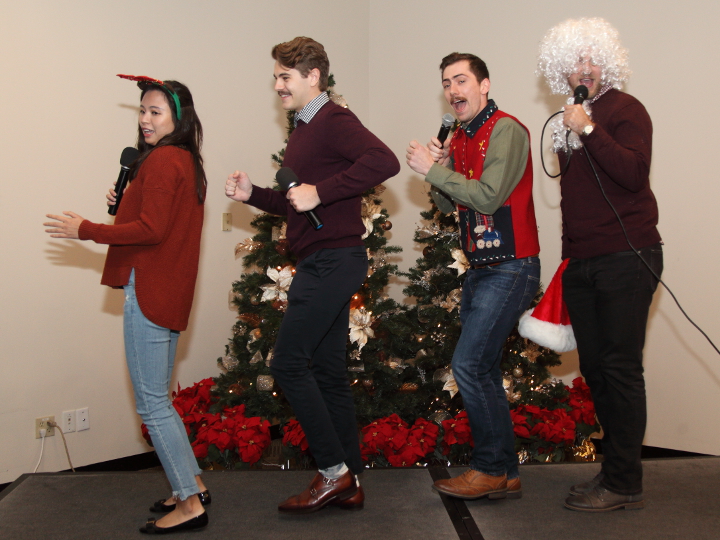 Jacob Ivy (second from right) makes beautiful holiday music with Equity Methods colleagues.
Jacob Ivy
Arizona State University
BS Finance & Economics
Scottsdale native Jacob interned at Equity Methods during his last year of school, assisting with complex equity compensation valuation projects and programming macros in SAS. By graduation, that internship had turned into a full-fledged career.
If someone visited your hometown, where would you take them?
I was actually born five minutes from Equity Methods. So, being from here, I'd take visitors to Top Golf. It's a cool golfing place where you form teams and hit balls into designated targets. If it's winter, I'd take them to Camelback Mountain or Sedona or the Grand Canyon. If it's spring, I'd take them to spring training right next to my house. In the summer, we'd go on a daytrip up north to a swimming area I know about.
How did you come to work at Equity Methods?
I was recruited at a career fair while still a college junior. I served a yearlong internship as a valuation analyst. Then I was hired full time into the financial reporting practice.
What was the most surprising thing about working at Equity Methods?
The abundance of smart people. Everyone knows each other.
What's the most interesting client project you've had so far?
A big, famous technology company spinout. I was put on that early on. It's a pretty complex project that has aspects of almost everything we do. I've done a lot of non-client stuff too. I set up the Equity Methods ping pong page showing stats and the previous winners of all past tournaments.
What do you think is unique about Equity Methods?
The number of people from all over the world.
How would you describe Equity Methods to someone who doesn't know us?
It's a small firm with very big goals. We do complex things for large companies.
Why do you think Equity Methods is a top firm to work for?
You can wear whatever you want (within reason). We treat everyone like they belong. Everyone knows each other. There are really good internal controls for a firm of this size. There's pretty much no friction between managers and employees, or among employees. Employees make their own decisions when it comes to everyday work. There's no micromanagement.
What do you like to do when away from work?
I like to play soccer and basketball. I also like mountain biking and listening to all sorts of music. I collect CDs and records.
Do you like to cook?
I want to like to. I'm good at making eggs. Really, I'm too lazy.
What did you do during your last vacation?
I backpacked through Europe on crutches! I'd broken my leg and had just started walking about two days before leaving for the trip. I visited the Netherlands, Germany, Switzerland, Hungary, the Czech Republic, and Sweden. I really liked Switzerland, but my favorite was the Czech Republic. It had really good architecture, and everyone was pretty kind.
Who was your biggest influence while you were growing up?
My parents, Steve Nash, and possibly Lance Armstrong. But I have to put an asterisk on that last one.
What is the character trait you admire most in people?
Industriousness. Consistently working hard. It's easy to work hard for a short time, but to do so all day, every day, is pretty difficult.
Which words or phrases do you most overuse?
Sometimes, when someone tells a joke and I don't know how to respond to it, I say, "That's funny." I do it when either I can't think of a clever response or I actually don't think it's funny. It's a bad habit I want to get out of.
What's your idea of perfect happiness?
No stress outside of work (I think some stress is good at work), having the time and energy to do everything I want to be able to do, and being healthy. Not having a broken leg is nice.