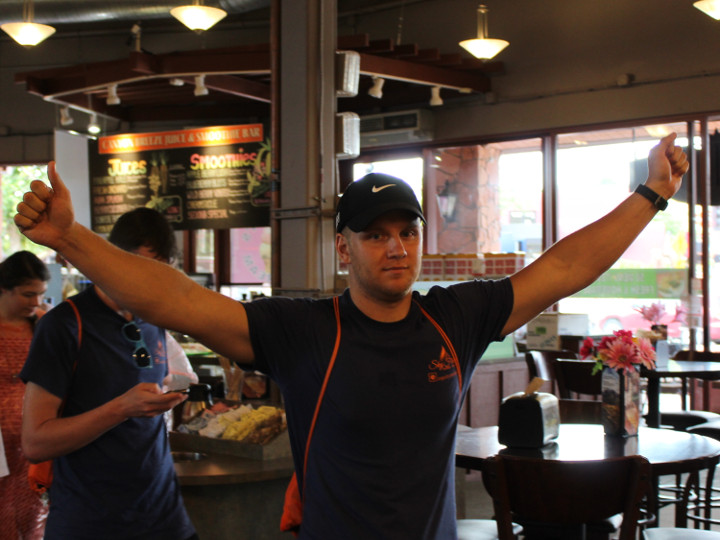 Josh Williams
Northern Arizona University
MBA
Northern Arizona University
BSBA Finance & Management
If it's broken, Josh fixes it. If it works, he makes it better. Josh led a proposal to replace the entire transit fleet at Northern Arizona University with vehicles that would reduce carbon emissions by 75%. Around the same time, he helped develop a plan to bring a pioneering micro-pump design to market. As a vice president of international nonprofit Net Impact, Josh helped people harness the power of business to create a more socially and environmentally responsible world.
If someone visited your hometown, where would you take them?
I'm from Ogden, Utah, so I'd take them to the ski resort at Snow Basin. If it's summertime, we'd go mountain biking, play Frisbee golf, take a gondola up to the mountain to hike, or attend one of the Sunday concerts.
What was the most surprising thing about working at Equity Methods?
How quickly you get initiated and see your responsibilities grow. There's a huge learning curve and you get dropped in the middle.
What's the most interesting client project you've had so far?
I'm redesigning a process for a big financial services firm. This is a process that multiple people on the client side have worked on, yet no one person knows how the whole thing works. We're finding a lot of risks. We're bringing them onto our new system and providing full service.
Do any stories from your time at Equity Methods stick out?
During our firm retreat to Flagstaff, during our free day, I took some of our newer hires mountain biking. That's something I did a lot while I was in school. It was a lot of fun. I showed them some of my favorite trails.
How would you describe your Equity Methods colleagues?
Everyone here is very helpful. Even during quarter end, people will take the time to answer questions and walk you through things. But we're pretty selective about who we hire. The firm feels like a collection of friends who work together as well, which I think is a pretty good place to be.
What advice would you give someone who just joined Equity Methods?
Although people are very helpful, try to think critically for yourself as well. Also, branch out. People tend to be very reserved when they first start. Ask your coworkers to go to lunch. Get to know everyone so you'll know who to go to when you need something.
Why do you think Equity Methods is a top firm to work for?
We invest in our people and give them the tools to do their jobs well. Also, the job itself is multifaceted. There are a lot of areas where you grow your skills. It's not strictly accounting all day long. You can explore what you like to do and pursue the things that interest you the most.
What do you like to do when away from work?
I'm a big mountain bike fan. That's my go-to activity whenever I can get out of Phoenix. I also like paintball and camping, especially going down to Mexico and Rocky Point.
Do you like to cook?
I do. Mostly grill. I can cook anything.
What did you do during your last vacation?
I went to Missouri, to the Lake of the Ozarks, for the Fourth of July. I hung out with family doing just about every kind of lake activity you can think of.
Which living person do you admire most?
Elon Musk. He's a bit of a technology nerd and his companies are pretty cool. It's pretty crazy what he's been able to do with them.
What is the character trait you admire most in people?
What do you consider the most overrated virtue?
What's your greatest extravagance?
I read a lot of random stuff—a lot of business articles, technology articles. I just like to know what's going on.