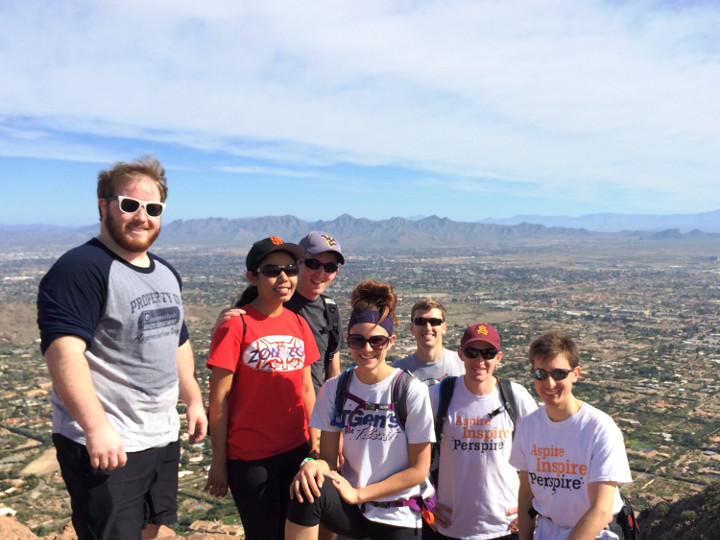 Nick Faris (left) conquering mountains with Equity Methods colleagues.
Nick Faris
Arizona State University, WP Carey School of Business
BS Finance and Economics
Mesa native Nick Faris played football and won regionals for wrestling while in high school. During his sophomore year in college he studied in Barcelona, an experience that had a lasting effect on him. A fellow member of the ASU chapter of the Financial Management Association tipped Nick off about Equity Methods, and the rest is history.
If someone visited your hometown, where would you take them?
If we had time, I'd probably take them to the Grand Canyon. That's an all-day commitment, but it's one of the better things to see if you're in Arizona.
What was the most surprising thing about working at Equity Methods?
How much fun the environment is. Looking back, the internships I had were very "clock in, clock out, keep your head down." Here, it's a lot more relaxed. You work hard but have fun while you do it.
What's the most interesting client project you've had so far?
Definitely the implementation and spinout for our new client. It was just a lot of moving parts. We had to build out the client's ESPP financial reporting process from scratch, and address a lot of other issues for them at the same time. It was a really cool experience for me.
Do any stories from your time at Equity Methods stick out?
Being able to work with Takis and other managers very early in my career. We don't have this massive power hierarchy where managers are put on a pedestal. Everyone works together and all our inputs are valued no matter where we are.
What advice would you give someone who just joined Equity Methods?
The same advice I got: Be a sponge. Lot of things will be thrown at you. Absorb as much as you can. Everything will be confusing and abstract at first. But one day it will all come together and make sense.
How would you describe Equity Methods to someone who doesn't know us?
We have a very independent culture. As long as you strive to be better and improve yourself, people are okay with whatever you do. It's just a very intelligent environment. It's a good place to grow personally.
How would you describe your Equity Methods colleagues?
Smart, hardworking, responsible, and fun.
Have you ever jumped out of a plane?
Yes. I went skydiving in Hawaii. It was interesting because the whole time I was thinking, "I've got this. We're pretty high, but I've got this." Then you get to the opening and think, "Oh, what have I done?"
What do you like to do when away from work?
Spend time with my family, watch sports, and play video games.
What is the character trait you admire most in people?
What do you consider the most overrated virtue?
What's your greatest extravagance?
Travel. In Barcelona, I was traveling all the time—going to different countries, trying different foods, going to all the different sites.
Which words or phrases do you most overuse?
"Garbage." I use it when things aren't good. I actually get made fun of, a little bit, for it.
Which talent would you like most to have?
The talent to not stress about anything. I have some friends that are very much that way and I don't know how they do it.