Once Again, Equity Methods is No. 1 Among Small Companies to Work for in Arizona
Award Posted on: 6/29/2017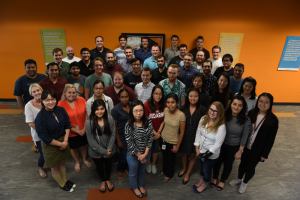 For the second year in a row, Equity Methods earned the #1 ranking among small employers in Arizona's most prestigious workplace award program.
Sponsored by Republic Media and Best Companies Group, Top Companies to Work for in Arizona is a survey-based initiative to find and recognize Arizona's best employers. Research firm Best Companies Group evaluates participating employers each year and publishes the results on AZCentral.com.
According to Republic Media, award recipients "tend to treat their employees well and make them feel valued, helping to attract and retain talent at a time when the unemployment rate has been dropping. Top companies offer room for advancement [and] opportunities for all."
"To clients, we aspire to be known for going the distance—taking on tough problems and bringing analytical clarity and a frictionless client service experience," said Takis Makridis, President and CEO. "To our own team members, we want to be a source of mentoring, coaching and development, while building an organizational context that's low on politics and long on substance. We want to help great people achieve excellence, and we want to impact the lives of our clients by giving them the very best we have to offer."
The assessment involves two surveys. The first survey collects company policies, practices, benefits, and demographics. The second polls employees in depth on their engagement and satisfaction. The data from both surveys are combined and analyzed to determine the rankings.
Equity Methods representatives were on hand at a June 29 award breakfast in Scottsdale. Takis Makridis, Raenelle James, and David Outlaw accepted the award on the firm's behalf.
To learn more: