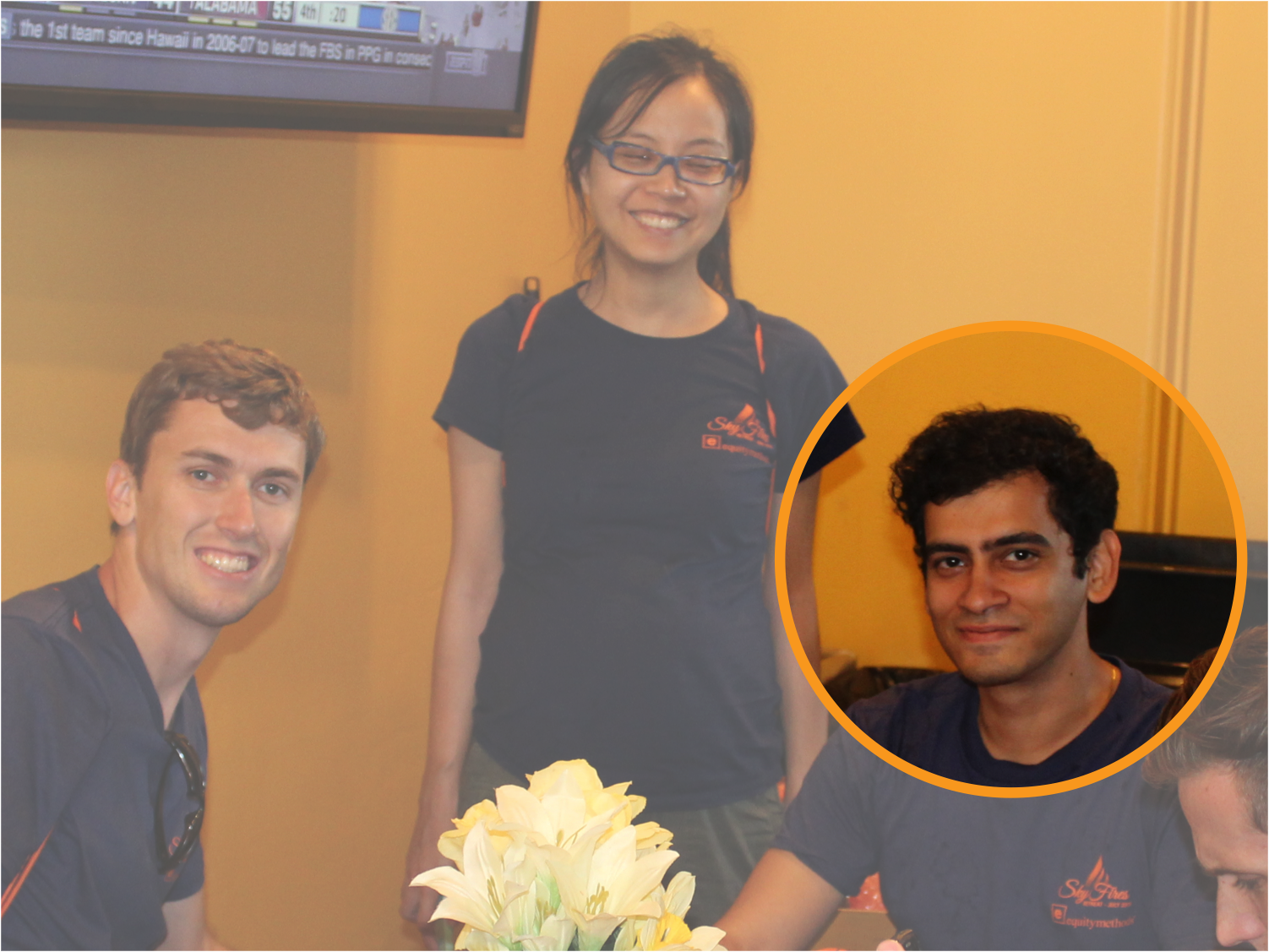 Sid Thaker
Arizona State University, Thunderbird School of Global Management
MBA Global Finance
Anna University
BE Electrical Engineering
By day, Sid was a software engineer at Cognizant, working on cutting-edge mobile technologies. By night, he was a math guru, tutoring Kaplan students in quantitative analysis and integrated reasoning while working with humanitarian organizations to educate children in need. Then he went back to school for his MBA, setting him on the path that led him to Equity Methods.
If someone visited your hometown, where would you take them?
Chennai is an awesome place. It has all the modern amenities you'd expect from a city of its size—it's one of the four biggest in India—plus lots of sightseeing. I'd probably take them to Mahabaliburam, which is a very nice cultural and historical landmark. It has beautiful structures and is close to a beach. I definitely recommend the beaches as well. I'd take a visitor to one of the private ones or to Marina Beach.
What was the biggest culture shock of moving to the United States?
The amount of freedom here. For example, just moving around—you can go wherever you want. Eating is another example. I'm a vegetarian and had a really tough time with meals in East Asia, but here there's always some option. Psychologically speaking, you feel much freer to do what you want, short of breaking the law obviously. It's that cultural mindset that was the biggest shock.
What was the most surprising thing about working at Equity Methods?
Well, previously I worked in India for three years. It was pretty formal. I wore a suit and tie every day. It was a pleasant surprise to be more casual here. I can talk to higher management very easily.
What do you think is unique about Equity Methods?
I can express problems openly; I don't need to think twice before talking to a supervisor. There's no form of peer pressure. Help is readily available.
What's one thing people should know about us?
It's an exciting environment. You don't perform a single task. You get to work on several projects, whether yours or someone else's. You learn something new every day. It's an environment conducive of learning and growth.
How would you describe your Equity Methods colleagues?
What advice would you give someone who just joined Equity Methods?
My biggest piece of advice would be to ask a lot of questions. If you think you need help, don't hesitate! If there's an answer, you'll get it. The questions might seem silly to you, but the answers could help you down the line. You can't be comfortable after your training period that you know everything. Keep reading and keep learning.
Why do you think Equity Methods is a top firm to work for?
The growth of my supervisor depends on my growth as well. It's very motivating. It's not very difficult to go to the CEO to express concerns and ask for advice. People are always available to give feedback, offer suggestions on what you should be thinking about, and help you focus on a plan.
What do you like to do when away from work?
I love hiking and rock climbing. I also like visiting new places, including exploring Phoenix, but I prefer being in the country away from all the noise.
Do you like to cook?
Yes. Very much. I love experimenting with food. The caveat is that probably I'm the only one who'd enjoy my cooking. It's more like a chemistry experiment going on in my kitchen.
What did you do during your last vacation?
I went to Southeast Asia. It wasn't entirely a vacation. It was supposed to be an educational trip, but I squeezed in some personal time. I visited Thailand, Indonesia, Vietnam, and Singapore. I also hit the beaches and some clubs. I was there for about two and a half months.
Which historial figure do you wish you could have met?
Leonardo da Vinci, because of the number of inventions he had and how he thought. Plus he lived in an era where there wasn't much access to the scientific method or other inventors. But I'm curious about anything historical. I'd want to meet any number of historical figures for at least a moment, just to understand what actually happened.
What's your greatest extravagance?
I love gadgets! Headphones, watches, you name it. I like owning the best on the market. To me, what matters are the specifications, not the brand.
What's your idea of perfect happiness?
If I ever had the opportunity, I'd spend a month in the Amazon, just relaxing and exploring. That would give me a great deal of satisfaction. I'd have to go by myself, though…my girlfriend's not interested!