Equity Methods Recognized Among "100 Best Companies in Arizona"
Award Posted on: 1/19/2022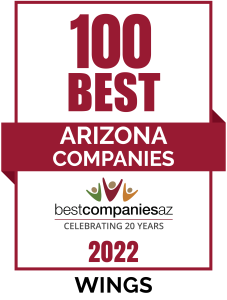 BestCompaniesAZ has named Equity Methods one of the "100 Best Companies in Arizona." We landed in the Wings category, which honors Arizona's top organizations where "innovation, empowerment, freedom, creativity (and maybe disruption) truly shine."
"We pride ourselves on an inclusive culture that equips every individual with what they need to bring their best self to work," said Takis Makridis, president and CEO of Equity Methods. "That's one reason why we expose our people to new projects and techniques from the get-go. And if you have an idea for improving the business, roll up your sleeves. Because there's a good chance we'll put you in charge of making it happen."
This year's achievement follows nine consecutive years of recognition as a top company to work for in Arizona, a program by Best Companies Group.
"BestCompaniesAZ has been at the forefront of recognizing sought-after employer brands and creating prestigious workplace awards programs in Arizona since 2002. As we celebrate 20 years, we are proud to recognize companies across our state who are making a positive difference in the lives of their employees and our communities," said Denise Gredler, Founder and CEO of BestCompaniesAZ.
See BestCompaniesAZ's profile of Equity Methods, explore our open positions, and learn more about what life at Equity Methods has to offer.