Equity Methods Tops Leading Client Satisfaction Survey for Six Years Running
Award Posted on: 9/10/2019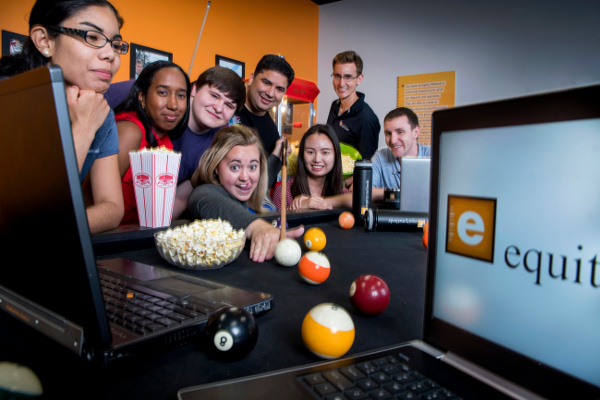 Photo credit: Rick D'Elia
Equity Methods has once again achieved the highest overall client satisfaction and loyalty ratings among stock plan financial reporting service providers in the annual Group Five Financial Reporting Benchmark Study.
The study asks corporate plan sponsors about their satisfaction with the financial reporting services they receive from their outside provider. For six consecutive years, Equity Methods has earned the highest rating in 15 of 18 satisfaction measures that the study tracks. This year, the firm earned a 100% satisfaction rating overall and in 13 of the 16 detailed measures (from platform functionality to forecasting and modeling capability). The firm earned a rating of 98% in the remaining three measures.
This is the fifth consecutive year that the firm earned a 100% overall satisfaction rating and the sixth consecutive year of earning the #1 spot among stock-based compensation reporting providers.
Group Five also reports client loyalty for each provider in its study. The finding is expressed as a Net Promoter Score (NPS), which measures loyalty by asking clients how likely they are to recommend a provider to a friend or colleague. An NPS can range from -100 to +100. For 2019, Equity Methods earned a Net Promoter Score of 96. The industry average is 44.
Here are some of the comments clients shared with researchers:
"I can't say enough good things about Equity Methods. They are the best service providers we've ever dealt with. They are so responsive and can answer any question we have or provide any information/report we need."
"Excellent business partners with a wealth of knowledge and experience, continually open to enhancing reporting in support of regulatory environment changes or plan administration changes."
"Great overall experience of approximately six years. I am responsible for multiple vendor relationships at my company. I can say that Equity Methods is the most customer-focused, straightforward, and trustworthy vendor."
Group Five is the industry leader for corporate client, shareholder, and plan participant satisfaction research and consulting in the stock plan and shareholder services industries. Now in its 21st year, the Group Five benchmarking study is designed to measure stock plan sponsors' satisfaction with their plan administrators, plan brokers, technology platforms, and financial reporting services. The study also identifies service providers' strengths and areas for improvement from the plan sponsor perspective, and identifies the key drivers of plan sponsor loyalty to service providers. The 2019 study includes responses from 637 U.S. public companies.
"Our clients mean the world to us, so we're especially proud that they've honored us with the highest satisfaction and loyalty ratings again this year," said Takis Makridis, President and CEO of Equity Methods. "Our mission is to bring flexibility and insight to every aspect of equity compensation reporting. We love helping our clients manage this critical function with innovative solutions and best practices from the field. Their ongoing positive response to the Group Five benchmarking survey is a gratifying affirmation of what we do every day."
More on the 2019 report:
2019 Group Five Stock Plan Administration Benchmarking Results and What's Ahead in Stock Compensation Reporting
Group Five's press release:
Group Five Releases 2019 Results for Equity Compensation Financial Reporting Services
Last year's study:
New Report: Equity Methods Rated Highest in Client Loyalty and Overall Satisfaction for Fifth Consecutive Year
2018 Group Five Stock Plan Administration Benchmarking Results and What's Ahead in Stock Compensation Reporting