New Report: Equity Methods Rated Highest in Client Loyalty and Overall Satisfaction for Fifth Consecutive Year
Award Posted on: 9/12/2018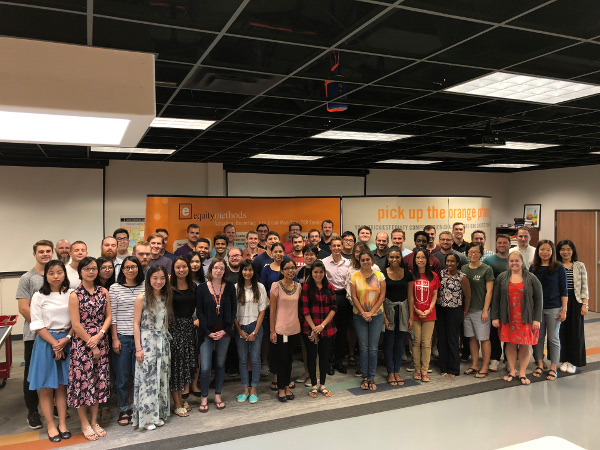 The Equity Methods team, September 12, 2018.
For the fifth year in a row, Equity Methods earned the highest Net Promoter Score (NPS) and overall client satisfaction ratings among stock plan financial reporting service providers in the annual Group Five Stock Plan Administration Benchmarking Study.
Group Five is the industry leader for corporate client, shareholder, and plan participant satisfaction research and consulting in the stock plan and shareholder services industries. Now in its 20th year, the Group Five benchmarking study is designed to measure stock plan sponsors' satisfaction with their plan administrators, plan brokers, technology platforms, and financial reporting services. The study also identifies service providers' strengths and areas for improvement from the plan sponsor perspective, and identifies the key drivers of plan sponsor loyalty to service providers. The 2018 study includes responses from 495 U.S. public companies.
Equity Methods earned an NPS, or loyalty, rating of 95 and an overall client satisfaction rating of 100%. For those who aren't familiar with the NPS concept, it's a metric originally coined by Fred Reichheld of Bain & Co. that asserts the most important measure of loyalty is the answer to just one question: How likely are you to recommend Company X to a friend or colleague? NPS scores are measured on a scale of -100 to +100, and the industry average was 56.
"Group Five's annual study is the industry standard for benchmarking stock plan financial reporting services," said Takis Makridis, president and CEO of Equity Methods. "We're gratified by this feedback from our clients. We view the results as an affirmation of our mission to delight clients and solve their most pressing problems within our areas of expertise. We invest heavily in research and innovation so that clients can look to us for insight into the issues lurking around the corner."
More on the 2018 report:
2018 Group Five Stock Plan Administration Benchmarking Results and What's Ahead in Stock Compensation Reporting
Group Five's press release:
Group Five Releases Results for Financial Reporting Services for Corporate Stock Plan Sponsors
Last year's study:
Equity Methods Tops Client Satisfaction Ratings in Stock Compensation Reporting for Four Consecutive Years
For the Fourth Year in a Row, Equity Methods Tops Client Satisfaction and Loyalty Ratings for Financial Reporting Services